The examples here are Celtic or Iona crosses. Obviously, this style of decoration, usually called Celtic but more accurately Pictish, can be applied to any object. Other themes in this group are plant, bird, animal or human shapes - more or less stylised. the Dove of Peace, (the symbol of Saint Columcille or Columba), is a favourite. 
Living as I do in the old Cockpit of Scotland, where great battles were fought and the fate of nations decided from Neolithic times until recently, I am surrounded by standing stones, symbol stones, castles and monuments. Ample inspiration, then, for Celtic carvings. Send me your ideas and I'll give them life.
The Celtic or Iona cross is empty, unlike the Crucifix. It consists of a tall shaft and three equal arms. Between the arms and the shaft is a corona, representing the glory of Christ's resurrection. It has been said that the Celtic Church focussed more on the joy of the risen Christ, rather than the more dramatic but grisly event of his death. The Iona Cross is sometimes called the Cross of Christ in Glory. Columba or Columcille in Gaelic, meaning 'the dove of the church', was an Irish monk who brought Christianity to Scotland, landing on Iona, an island off the west coast of Scotland. Iona today is home to an ecumenical community.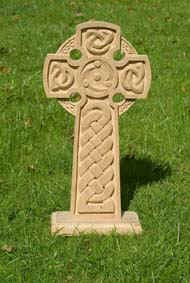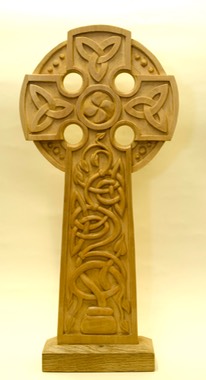 The Tree of Life cross, carved for a client in memory of his sister and now placed in a north-east of Scotland church. The Tree of Life is theme that appears in many religious traditions
A medium cross, about two feet high including the pediment. Carved in Scottish oak from Falkirk, this example is still 'in the white', before treatment with Danish oil.