In the interests of fleshing out my on-line biography, I include below some stories about me and my carving. If you scroll down to the bottom of the page, you'll find out how you can sign up for tuition with me. No, not yet - read the bit about me first.
Firstly, where I live. Elsewhere in this site I refer to my neighbourhood as 'Braveheart Country'. This harks back to a movie by Mel Gibson about William Wallace, the hero of Scottish national wars of independence. In fact, the whole valley of the River Forth was known as the 'Cockpit of Scotland' because of the strategic position of the crossing at Stirling. Many battles over many centuries - and very scenic.
The village where I live, Menstrie, nestles - I use the word advisedly - beneath the dramatic Ochil Hills. My own house was built in 1776, a date that may have resonances for American readers. My workshop, on the left in the photograph below, was once a dairy and was reduced in size during the 1960s, when the local council widened the road. I don't know anyone who has a work space big enough for their needs.
The carving room where I spend so many happy hours is compact and crammed with as many pieces of machinery as can be accommodated. It is built of brick and stone, which means it is at a comfortable temperature in all seasons. It's important to be comfortable.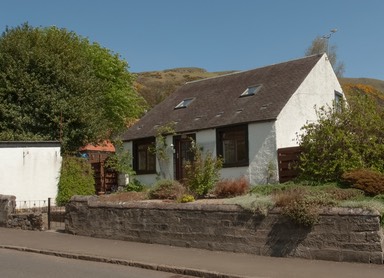 I recently worked with The Wee county Crafters, a social enterprise dedicated to various craft pursuits. We are based in The Workshop, a Victorian sandstone building in Alva, Clackmannanshire. We have a large, professionally equipped joiner's workshop on the ground floor with a similarly sized flexible space above. It is a friendly group and visitors are welcome. See the Links page for our website.